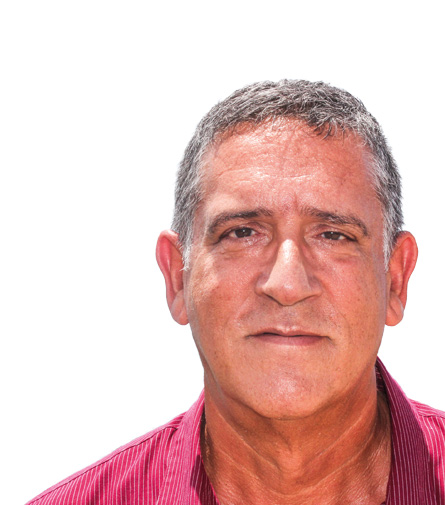 Anthony van Sprang, CEO, Founder and Lead Engineering Consultant
Quite recently, Curacao born Anthony Van Sprang's brainchild—Omega Engineering—deployed its first OWAC (Ocean Water Assisted Cooling) indoor cooling system for Curacao Government's Financial Department, working alongside the government. Presently, they are the proud owners of the greenest building on the island with an energy footprint of only 9 Watts per square meter for cooling the entire complex. The building is adequately ventilated, surpassing the minimum standards and providing a healthy low-risk environment for the habitants. Over the years, the client was able to realize a significant decrease in their energy consumption costs with a total reduction of above sixty percentage in operational billing.
Accomplishments such as this exemplify Omega Engineering's prowess and Anthony's vision for the future of OWAC cooling systems. As commendable as they are, Anthony's achievements and lustrous career in the industry changed trajectories when he migrated back to his native island of Curacao, the Dutch Caribbean region, as a freshly graduated mechanical engineer in the early eighties.
After settling in the Antilles island nation, Anthony would go on to work for various companies, creating a name for himself in the cost-effective and energyefficient indoor cooling industry. In 2001, having served the industry for two decades, and working with some of the big names from both the government and private sector, Anthony decided to become an independent design consultant and engineer to oversee some of the largest projects all across the collective Caribbean Islands. During this period, Anthony engaged himself in a research program to study a permissible and efficient method of utilizing seawater instead of potable water within a condenser to further enhance the design, development and installations of AC systems. A decade and a half later, the innovator released the world's first fully functional OWAC system in Curacao.
In 2017, Anthony won the Energy Engineer of the year award for the Latin American and Caribbean Region, at an award ceremony held at the Georgia World Congress Center in Atlanta, Georgia, USA, given the successful development and deployment of the world's first OWAC system. The accolade was issued by the Association of Energy Engineers, a global organization of professionals from the energy sector. Likewise, Omega Engineering was also recognized by the Energy Globe with their prestigious National Energy Globe 2020 for the OWAC technology.
After testing and evaluating the performance and reliability of OWAC technology for a period of over 5 years in their building, the Curacao government decided that the technology qualified to be implemented in the national energy policy.
The Objective-Oriented Start
For most Caribbean islands, electricity costs are among the highest in the world and potable water is produced out of seawater desalination by mechanical processes.
Natural water is relatively scarce, and if available, reserved for agriculture. At this crossroads, Anthony's acumen and extensive knowledge of the AC and ventilation systems development schema paved the way for building stakeholders to maintain or upgrade the airflow infrastructure within their facilities to the current international health standards. "We use high-end third-party solutions from Europe, Asia, Australia, and the United States, along with our R&D knowledge to engineering these technologies and components into one harmonic and organic system. Through this technology, we aim to fulfill the objective of reducing operational and maintenance costs while creating a healthy and safe indoor environment," states Anthony.
As an emerging technology, OWAC has sparked an interest in building stakeholders to invest in, due to the low risk and high yield such a solution offers
With the most significant commercial and institutional buildings relatively close to the shoreline, the equipment is susceptible to saltwater corrosion causing substantial damages. Addressing this predicament would necessarily require a desalination structure localized to the premises to prevent the destruction of the expensive factory machines due to seizure by clogging. These factors, along with Anthony's desire to combat energy consumption struggles, led to Omega Engineering's success in developing its OWAC system for greater sustainability. "In our quest to achieve maximum sustainability, we looked at not working against nature but as much as possible in harmony with it," comments Anthony.
Creating Formidable OWAC Technology
Omega Engineering's operational approach allows it to make the best possible use of available natural resources for the maximum benefit of clients and the community as a whole. As most conventional methods of energy storage and distribution do not substantially minimize the economic constraints for most building owners, the aim was to develop a plan to improve the performance of the OWAC system using a natural resource. Omega Engineering's R&D team focused on making seawater directly usable as a coolant passing through the condenser of a chiller. To make this possible, Anthony devised a method to control the complexity and plurality of the corrosive components and multi-path chemistry that can rot away an expensive piece of equipment from the inside out.
By achieving this objective, the team was able to develop an OWAC system that helps clients reduce energy costs by 70 to 75 per cent without any additional penalties that were levied in previous operational workflows. Omega Engineering's OWAC system eliminates the requirement for excessive cooling towers, potable water consumption, chemical water treatment, and, in turn, reduces condenser water pumping power. "We engineered the system to be self-sustaining in maintenance procedures by using smart automation technology for the collective execution of all the high-energy consuming procedures and controls," elucidates Anthony.
As the system has no requirement for any chemical compounds for the desalination process, it also ensures that the Caribbean coral reef is well protected.
Redefining Cooling
"As an emerging technology, OWAC has sparked an interest among building stakeholders for investments, owing to the low risk and high yield such a solution offers," states Anthony. Omega Engineering is near finalization of a strategic partnership with a significant player in the Caribbean energy sector that will enable it to grow in the regional and global market with a planned and controlled strategy. As of now, Omega Engineering is concentrating on its home turf and continues to work with companies in Curacao, and the surrounding Caribbean island nations. "Presently, we have numerous projects under development such as an OWAC district cooling for a complete naval base, various hotels directly and indirectly at shorefront, a cluster of government buildings, and an international airport hosting a data centre," says Anthony. The final closure for these deployments is scheduled for the last quarter of this year heading up into the first quarter of next year. On successful completion of all installations, the pioneers of the OWAC systems hope to venture out and deliver their equipment and engineering services at venues that are similar to the Caribbean market.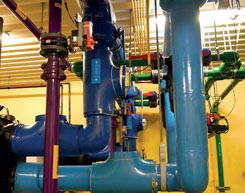 With an increasing necessity for clean and healthy indoor environments, Omega Engineering is working toward modifying its OWAC system to be more eco-friendly, in compliance with the newer standards set by building safety regulatory agencies. One such institution, ASHRAE, the global authority for ventilation and AC systems engineering is set to release a new standard for higher ventilation rates based on the lessons learnt of the COVID-19 crisis. At Omega Engineering, the plan is to tackle this challenge by presenting its clients with future-proof solutions that make buildings less vulnerable, without a significant impact on operational costs.
Moving forward, Omega Engineering is also setting out on a path to implement its OWAC technology at food-producing warehouses and vertical greenhouse technology to enable their economic existence by curbing their energetic requirement for indoor climate control and consumable water for crop production by respectively 75% and 90%. As many Caribbean nations have limited opportunity to cultivate crops all-year-round for their domestic consumption, they are mostly dependent on these supplements being delivered from the mainland. Modern greenhouse technology by itself cannot produce the crops sustainably with acceptable quality and market value in the tropical region. The deployment of an OWAC system is eminent for islands going forward, as it will not only curb their agriculture problems but also reduce their overall energy consumption. Currently, Omega Engineering is in the final development trajectory of designing its OWAC system at an indoor food-producing centre in partnership with a vertical greenhouse developer. The project and study have produced positive results so far, in terms of the high viability of using OWAC technology for low-cost operation and non-reliability of consumable water at greenhouses by the use of seawater as a significant enabler in hyper-efficient cooling.